Bridge Law Wins Two Awards in the SME News Legal Awards 2019!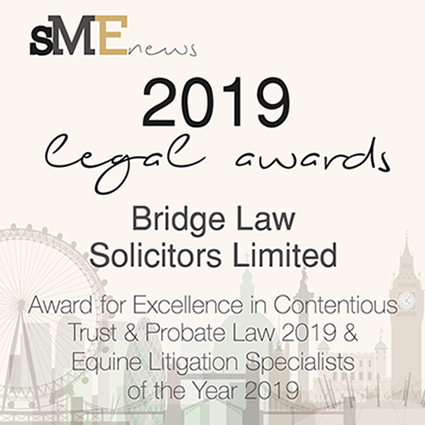 After a successful year for both clients and the firm, we are delighted to announce we have won the SME News legal awards for Excellence in Contentious Trust and Probate Law and Equine Litigation Specialists of the Year 2019!
This is a huge achievement for us at Bridge Law, after going up against big city law firms and winning cases across the UK, we are delighted to see as a small firm, our hard work and dedication hasn't gone unnoticed.
Our Contentious Trust and Probate department is headed by our Director, Claire Stewart. These are two of many areas we have specialist expertise in here at Bridge Law.
We would like to say a big thank you to all our dedicated staff, without their hard work and passion for achieving success on behalf of clients, this wouldn't have been possible and of course, to our clients who continue to support us!
If you need advice or assistance on a Contentious Trust and Probate matter or Equine Law matter, please contact our team today on 0161 427 0084 or info@bridgelawsolicitors.co.uk who will be happy to help.